I've learned it's never too late to recreate your life's soul journey.
I'm Kathy Slagter and I'm in recovery. My mission is to help guide you on your soul-recovery journey through the magical healing power of my horses.
Are you ready to live life empowered?
Is it time discover what your soul needs to recover?
Are you ready to learn how to trust yourself?
Is it time to let go of your fear and move toward loving yourself?
My horses and I want to show you recovery happens … and in recovery you can create a blessed and filled with a passion for life.
Together, let's create a life that is full of passion, joy, and love — to know what it feels like to experience the healing power of our horses' hearts.
Celebrate Recovery with a Prayer Pony!

I have partnered with the Prayer Pony Mission and they have created some beautiful ponies just for One Neigh at a Time. The beauty of the Prayer Pony Mission is that every Pony is hand sewn by my amazing team of like hearted workers and volunteers in North Carolina. Every Pony is named and delivers their inspirational poem. Just as horses and humans, each pony is created to have a unique purpose and plan.
If you choose to adopt a Prayer Pony from One Neigh at a Time's Mission, 10% of the proceeds will go directly to One Neigh at a Time to provide scholarships for individuals to attend recovery retreats and equine assisted coaching sessions.
Here's your opportunity to "Let it Go" …
The horses walk beside you as you find your personal strength and build your confidence on the next stage of your life's journey. We do not ride.
Horses guide us to live in our hearts and relax our bodies. They allow us to use their huge presence to comfort and support us. They hold no judgment, shame, or anguish. They only want to heal our hearts and show us how to live a life filled with spirituality and mindfulness.  Isn't it time to "let it go" and start the next phase of your life living with your whole heart, exploring new adventures with confidence and courage?
I started my personal journey into recovery in 2012. Since then I have graduated from the 2-year Touched by a Horse Certification Program and am now an Equine Gestalt Recovery Coach. I am also certified in the CCAR Recovery Coach Academy and I have received my certificate in their Crisis Prevention Response coaching program.
I know what it feels like to have life turned upside down, completely controlled by addiction. And I also know what it feels like to live today celebrating life sober.
30 Days to a Happier You!
What Kathy Recommends: 30 Day Coaching Program Discover your awesome new journey and experience a totally new concept in recovery. Together, we will embark on a month of discovery into healing. You will have the opportunity to experience what its like to be coached by the healing power of our horses. You will also have total access to me as a recovery coach— which means that we will explore your everyday trials and tribulations. We will work together to better understand your personality; learn new tools to approach lives challenges; set goals and create a vision that will excite your soul.
Why horses …
So much of the recovery process is harsh — facing your past mistakes, coming to grips with the things you've done and the people you have hurt. It can leave you raw and seeking shelter. Horses bring a gentleness to the recovery process — they guide with gentle energy that resonates into your soul. Horses do not know what shame is — and they can show you how to look at your life through open eyes without judgement. They also bring you into the present moment and to a place where you can look both back and forward. In my process, learning how to trust the horse helped me be able to trust myself. As a coach, I guide you to an understanding of what the horses are telling you — and together, you, I and horse move through all of the chaos and ugliness and into the truth one moment at a time — one neigh at a time.
Call Kathy O'Connor today at 616.901.2666 to get more information about how she can assist you in your recovery!
When you join our VIP mailing list, we will keep you up-to-date on what's going on at One Neigh at a Time. Join now!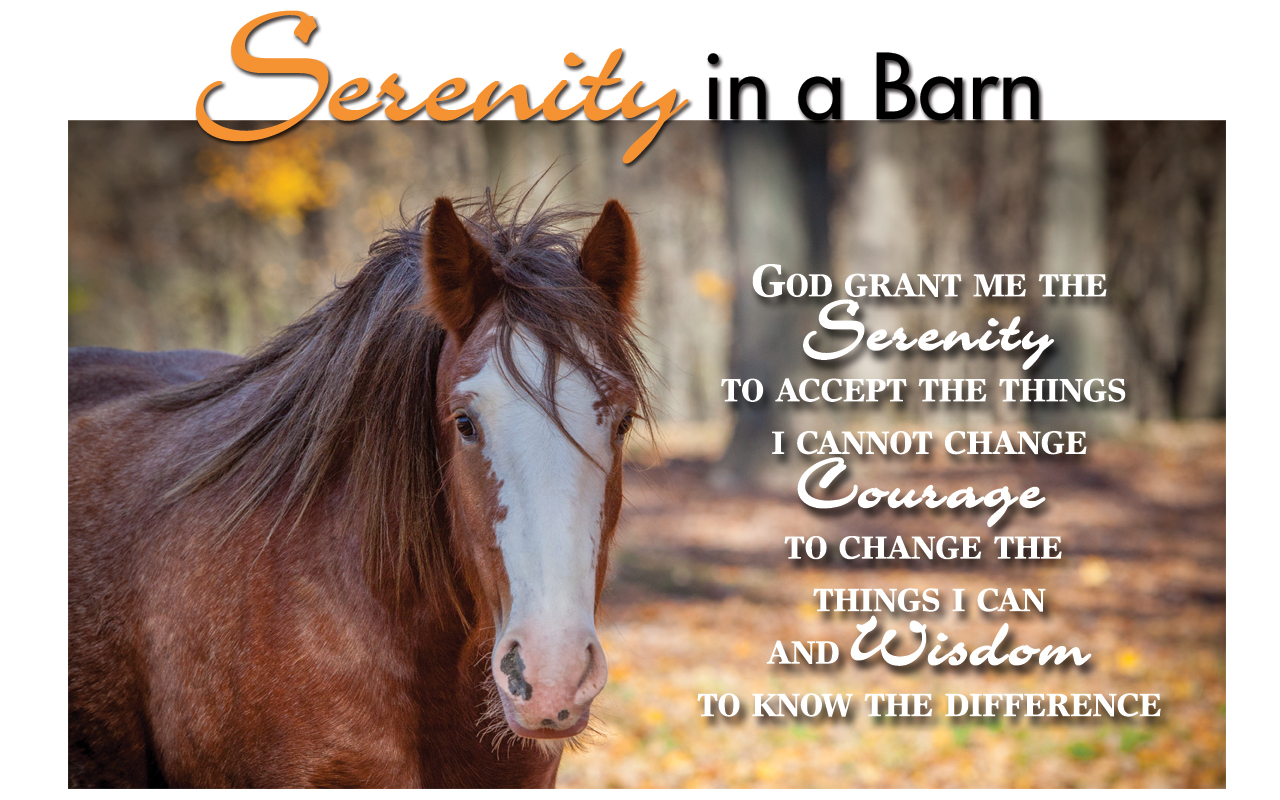 Visit our Meetup Page for the Next Serenity in a Barn
$10 |  Limit 10 people per Meetup
RSVP by email kathy@oneneighatatime.com
or on Meetup at https://www.meetup.com/Serenity-in-a-Barn/
Join Kathy and the healing power of the horses in the barn and discover what it is like to be connected heart to heart with a horse, mindfully connecting to your own heart. Gather in the arena, we do not ride, discuss what's on your mind, in your soul, and walk away with less stress and anxiety, give it to the horses, they will show you how to live fully in the moment. Let's step into the next phase of your life, finding a purpose and direction for your personal discovery journey.
Kathy is able to easily put you at ease with her strong, solid presence. Her wisdom is deep and she easily shares of herself as a coach.
Kathy holds a quiet, confident, safe space for people to work. Her intuition and skill are expressed in a loving manner as she coaches.
Kathy has an easy approach. Her coaching style is one that gets right to the root of the problem without you even knowing she's doing it.