"MY HORSES HAVE A SECRET MESSAGE FOR YOUR HEART."
COME TO MY HEALING BARN, AND BE READY FOR YOUR BREAKTHROUGH MESSAGE!
Let's go beyond your
recovery together,
one day at a time,
One Neigh at a Time.
— Kathy Slagter, Master Gestaltist
Dual Certified Touched by a Horse
Master Equine Gestaltist & Licensed Equine Facilitator
616.901-2666
are you ready to listen to your heart from a horses prospective?
horses read your energy, what does yours say?
is now a good time to go beyond your recovery?
SCHEDULE A FREE DISCOVERY CALL WITH COACH KATHY
My HORSES just might be the most powerful therapist you may ever meet…Horses have awakened in me a passion for life, and I want to share that passion with others who are eager to go beyond the act of just being in recovery, but to truly want to LIVE happy joyous and free. You stepped into your self-recovery journey, now you can go further, this is where …my horses and I…come in. Stop hiding your truth and step into your life with confidence, finding yourself strong and powerful in your recovery.
Are you ready for the healing to begin? My horses will help you get in touch with your body, mind and soul with their healing energy. 
Trust the Horse ~ Trust the process ~ Listen to the NEIGHS
I am loving life, living in recovery. Listening to my body, enjoying my walk, focusing on my light. I am following my spiritual journey, taking a walk with God, being forever present to myself and to those around me. My addiction took me away from living an authentic life, from being completely present, and I am now excited and honored to have found my way. Come to my healing  barn, and together we will help you find your way one day at a time, One Neigh at a Time.
I am a certified Equine Gestalt Recovery Coaching who co-partners with my horses, combining the healing power of equine therapy and the gestalt way of recovery to transform your life. I am trained, certified, capable and able to coach you through the many faces of recovery such as addiction, trauma, PTSD, abuse, grief and relationships.
Come and hear the secret messages my horses have to Neigh to you.
Muria Neighs, "Step into the arena with me and experience a transformation that will change your walk in recovery forever."
Miss Holly Dust
Holly loves her new job as my coaching partner in her mature years.  She has so much insight and knowledge to support you on your personal journey.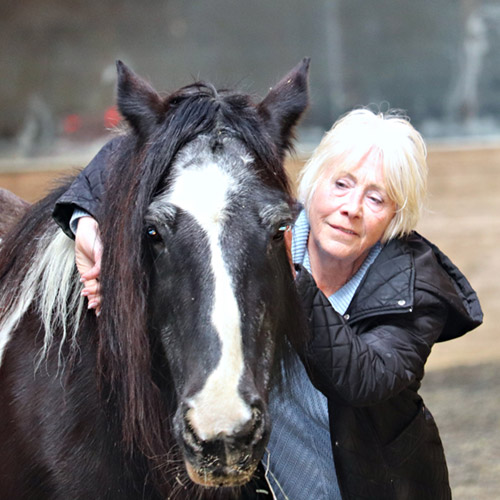 MUrIa
Muria has been a mother since she stepped on our property. Now she is enjoy her new job as a coach. She is giving new perspective and new life to those in recovery.
Iron Horse Carolina
Carolina has strength and courage to share with each client, she has been through many obstacles in her life and has a beautiful way of holding space for you in your life
SD Apache
Patchy might be small in appearance but his heart is big.  He will support and guide you as you open your heart to find the answers that allow you to start healing.
Watch this 15 minute podcast to understand better how the horses and I can help you achieve a happier recovery. You will also gain insight on my own recovery journey with the horses and the Touched by a Horse program.
20 minutes — that's all it takes to start.
If you're ready to make a change in your recovery life, let's explore the options in a short phone call. 
coaching options
The Gestalt Way of Recovery can be applied in many different ways — by working with the horses or by working over the phone. You can particpate privately (one-to-one with me) or in a group setting. Most people do a combination of all of these over the time they work with me.  
What can expect during the call?
During the call we will spend a few minutes getting know each other. I will ask you about your recovery and about your goals. We may also talk a little about your addiction. This call is meant to help both of us to determine if working together would be beneficial. 
What if I'm in an Anonymous program?
Great! For me, however, Anonymous Meetings were not enough and you may have found that is the case for you as well. I feel our program will help you go that "step further" and help you really design the life you want. That said, rest assured our program aligns itself with your own beliefs and experiences, so you chose whether to incorporate (or not incorporate) other programs into your experience. We are about helping you achieve joy in your recovery life.
WHAT IS THE EQUINE GESTALT COACHING METHOD?
The EGCMethod® is different than any other type of equine coaching you may have experienced or seen. With EGCM the horse is an active partner in the coaching and healing process. Using their combined wisdom and intuition, the EGCM coach and their equine partner will guide you through your experience. Working together, they will help you isolate the unfinished business that is causing you pain or blocking your path to success and happiness. Then, through experiential interaction they will assist you in clearing the energy that has been holding you back or keeping you from your best self.
The Equine Gestalt Coaching Method® was developed by Melisa Pearce, a core founder since 1989, of the horse-human healing movement. The experiential nature of the method involves the horse as an active partner with the coach in the client's exploratory process. The integrative approach of the equine's interaction combined with positive coaching, somatic awareness guidance and Gestalt methodology, assists the client in examining their life and choices made with a focus on designing a positive future.
EGCM sessions can take many forms and are as unique as each individual who experiences the process. Some people prefer to have their EGCM session in private — just them, the horse and the EGCM coach.
Others experience EGCM in a group setting such as a retreat or workshop. Many people find the group setting empowering and enlightening. In either setting, the EGCM coach will make sure you are treated with love, respect and that the coaching is provided in a safe and nurturing environment.
Research Finds Equine Gestalt Coaching Method Effective
In this video, Melisa Pearce, founder of Touched by a Horse and the Equine Gestalt Coaching Method (EGCMethod®) discusses the findings of a 2017 Research Study on the efficacy. 
Request to join our Private Facebook Community
If you are struggling and would like support and motivation join our private Facebook group for daily, hourly or by the minute support group of women who are in recovery.  Gestalt recovery will provide encouragement on your personal journey because no one's recovery is the same and we need to recover together.  Freedom to speak your truth without scaring your loved ones, getting support to be free of the craziness alcohol and drugs brought into our lives. Let's be a blessing of kindness and support, giving love, hope, and encouragement along this healing process.  Celebrate our accomplishments, provide a cyber hug when needed for the times we struggle to stay sober.  If We change the words we say to ourselves, together we can change our lives. Recovery is more support, encouragement, fresh ideas with no judgment, no opinions, only positive affirmations. No Steps, but you will go on a discovery journey.